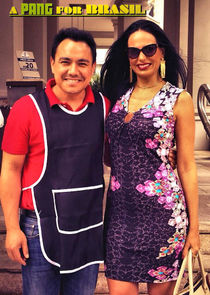 Premiered: 2014-06-02
Avg Rating: /10
Airs: Monday at 19:30
Description:
The hilariously awkward and definitely not Brasilian Sam Pang sets off to discover what makes Brasilians the coolest race on the planet as excitement builds around the host nation of the 2014 FIFA World Cup.
Episode 2
Sam makes his way to Sao Paolo and Salvador where in Sao Paolo, he spends a day with local model-turned business mogul millionaire Cozete Gomes. In Salvador, he gets the chance to drum with the legendary carnival band Olodum and finds out that he was Afro-Brasilian in a former life.
Air Date:
9 Jun 2014
Episode 1
Sam Pang begins his Brasilian adventure in Rio de Janeiro, the beautiful city of beautiful people. With the help of local comedian Veronica Debom, Sam experiences a Carioca makeover, and after a wax and shopping trip for a sunga, (the Brasilian budgie smuggler) is unleashed onto the beach. Sam looks to be finding his feet, and some friends, as he tries a Brasilian version of beach volleyball played with the feet, but naturally spends more time falling flat on his face. For his education in Brasilian nightlife and women, Sam meets with model, DJ and Madonna's ex-boyfriend Jesus Luz.
Air Date:
2 Jun 2014