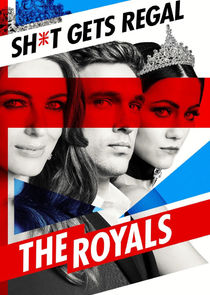 Premiered: 2015-03-15
Avg Rating: 8.1/10
Airs: Sunday at 22:00
Description:
The Royals is an hour-long drama centered on a fictional modern day royal family. Queen Helena and King Simon try to present an aura of class and grace to the public, but the truth of the family's life is much different, as tainted politics and family issues threaten to cause chaos and turmoil. The monarchs' rebellious daughter, Princess Eleanor, provides fodder for the tabloids with a life full of sex, drugs, and even hung-over helicopter rides. Her twin brother, Prince Liam, is a playboy who takes full advantage of being one of the planet's most eligible bachelors. It's a life Liam enjoys until his older brother -- and heir to the throne -- dies, making Liam next in line to inherit the throne. Power is everything, there are no limits, and trust is nonexistent for this royal family.